Monday: Buy The Dip Works Again
The retreat continued into the early hours of premarket trading. However, the S&P 500 index found support just under its May 24 (4133.50) at 4126.75 around midnight EST. By the open of the regular session, the index was over forty handles off that low and looking for more.
After a brief pause in the rally off the open of the regular session, the index blasted into 4200 handle. In fact, it was able to surpass the pair of closes from Wednesday (4213) and Thursday (4212.25), finally peaking at 4215.75.
Movers
Alphabet Inc. (NASDAQ: GOOG or GOOGL) continues to be ignored by the media as it quietly marches higher day after day with no end to the rally in nine of its last thirteen sessions. It has not had a losing month in 2021, rallying from its year-end close ($1751.69) to $2529.10 on Monday for an astounding 44 percent gain as of Monday's close.
Bitcoin continues to move towards the lower end of its recent trading range.
More on Bitcoin: https://tinyurl.com/khzfjv37 
Tuesday: Terrific Tuesday
The S&P 500 index refused to surrender much of Monday's gains in premarket trading. Off the open, the index matched the premarket low (4205.75) and resumed its relentless move higher.
Jerome Powell's testimony in front of the Senate Finance Committee added to the upward momentum.
The index finally peaked one tick from the index's all-time closing high at 4245.50 and backed off to end the session higher by 22.50 handles at 4236.50.
Movers:
Microsoft (NASDAQ: MSFT) joined the $2 trillion market capitalization club by making a new all-time high ($266.83). For the session, it was higher by $2.88 at $265.51.
Microstrategy Inc. (NASDAQ: MSTR) once again reacted to the volatility in Bitcoin.
More on Microstrategy Inc.: https://tinyurl.com/ee7rbr8 
Wednesday: Wimpy Wednesday
After three days of bigger than expected ranges, the S&P 500 index took a breather on Wednesday. In fact, it did not move out of the overnight range (4230.50-4248.25) for the entire session. As a result, it was choppy with four or five quick bursts in both directions.
However, it did exhibit some weakness going into the close and settled near the bottom of the range, lower by 5.25 points at 4231.60
Movers
It took a while, but Tesla Inc. finally broke out of its 33 day trading range ($546.98-635.59). In addition to the technical breakout investors embraced the news that the company opened a solar-powered charging station In China.
Alibaba Group Holding Let. (NYSE: BABA) had its first three-day winning streak since mid-May.
More on Alibaba Inc.: https://tinyurl.com/bfp2s5n9 
Thursday: Straight Up To New All-Time High 
Most of the day's gains were made in premarket trading. After a higher open, during the regular session, the index drifted higher to make a new all-time high (4263.75) and all-time closing high, ending the session in the green by 25.50 at 4256.
Movers: 
The pre-Prime Day rally in Amazon Inc. (NASDAQ: AMZN) came to an end, with the issue falling $54.74 ($3503.83 to $3449.08).
ViiacomCBS (NASDAQ: VIAC) rallied on takeover rumors.
More On ViacomCBS: https://tinyurl.com/2dvtku83 
Friday: Ending The Week On A High Note
There was a very familiar trading pattern to end the week. The S&P 500 index had a brief retreat during premarket trading and bottomed just under its former all-time closing high (4256.50) at 4253.50 around began to churn higher.
The low for the intraday session was seven points above that 4260.75. A late day rally took the contract to a new all-time-high (4276.75) and it improved on tis all-time closing high by 15.25 to close at 4271.25.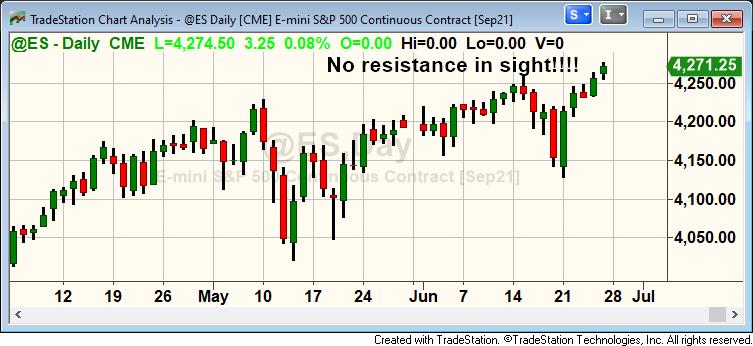 Movers:
It was not a good day or week for Bigen (NASDAQ: BIIB). With Eli Lilly (NYSE: LLY) applying for accelerated FDA approval for its Alzheimer's drug, the Street is anticipating the competition is going to be heating to see which drug is the first to get final approval from the FDA.
Bigen was in red every day this week (lower in eight of the last nine sessions), shedding $1.24 on Friday, which brought the total for the week to $40.51 ($388.44 to $347.93). The high on the day its drug received fast-track status was $468.55.
No stopping ROKU Inc. (NASDAQ: ROKU)
More on ROKU: https://tinyurl.com/hrrmnwuy 
The Week Ahead
On Monday and Tuesday, be prepared for some window dressing as fund managers dress-up and dress down their portfolio for the end of the quarter on Wednesday.
On Friday, the Bureau of Labor released the job report for June. Expectations are for the unemployment rate to edge lower to 5.6 percent from 5.8 percent. Needless to say, a super hot or super cold number is not likely to change the Federal Reserve Bank's future course of interest rates.
There are no major earnings reports on Monday or Tuesday. On Wednesday, the Street will get some fundamental information on the meme stock Bed, Bath and Beyond (NASDAQ: BBBY), when it reports for Q1. Not that it really matters anyways.
Also, Micron Technology (NYSE: MU), which is off a strong week, will report Q3 earnings after the close on Wednesday.
Options traders should keep an eye on time-decay, not so much early in the week, but ahead of the three day weekend for the 4th of July, there could be some serious time erosion on Friday.
Issue With Upcoming Catalyst
On Wednesday, Dow Jones got the rumor mill going, on whether or not Comcast (NASDAQ: CMCSA) was going on a buying spree. While Roku Inc. was already in rally mode and added to its gains, the other company ViacomCBS (NASDAQ: VIAC) has not.
However, it did have a good week adding nearly $3 (40.96 to $43.82) and is threatening to break out of its 55 day trading range, with the top of the range being at $44.36.