Monday: Dip And Rip
Friday's strong close in the S&P 500 index faded early in premarket trading and that continued into the mid-afternoon. However, it did find support a few points under the premarket low at 4264.25 and staged a late day rally.
At day's end it not only surpassed its former all-time high from Friday (4276.750, but also posted a new all-time closing high by 9.25 to close just off the high (4282) at 4280.50.
Movers:
After two quiet days to end the week, Facebook Inc. (NASDAQ: FB) blasted way beyond its former all-time high around 3 PM EST. The catalyst for the explosion to the upside was a report indicating the district court has dismissed the antitrust lawsuit from FTC against the company.
The issue surged nearly $14 over its previous all-time high ($344.90) peaking at $358.14. For the session, Facebook added $14.27, improving on its former all-time closing high by $12m to end the session at $355.64.
More on Boeing Co. (NYSE: BA) https://tinyurl.com/3zp9y28j 
Tuesday: New All-time High And Closing High, Again!!
During the premarket trading session, the S&P 500 index moved lower in sympathy with the weakness in the European markets. It recovered all of those losses and an early morning buying spree took the issue to a new all-time high (4291). It quickly faded off the high and into the early afternoon and the index chopped around in the lower to middle 4280 handle for a few hours. 
It had one quick move under the bottom of the range, but found buyers well ahead of the premarket low (4271.25), only reaching 4277. The rally came up well short of the morning high, but the index still posted a new all-time by 1.50 points at 4282.
Movers:
The double-top in Virgin Galactic (NYSE: SPCE) from Friday ($57.29) and Monday ($57.51), turned the tide for those trying to sell into strength into selling into weakness. For the session, the issue tumbled $7.82 from $54.84 to $47.02.
Morgan Stanley (NYSE: MS) turned out to reward shareholders more than all the others after last week's stress test results.
More on Morgan Stanley: https://tinyurl.com/7764k3md 
Wednesday: End Of Quarter Window Dressing
Once again, the overseas markets exerted some downside pressure on the S&P 500 index during premarket trading. However, the index found support in a familiar place, just under Tuesday's low (4271.25) at 4289.25 and staged a solid rebound. 
After staying in the red until the open, buyers nudged the index near Tuesday's all-time high 4290 with the rally stalling at 4289 and quietly traded in the mid-4280 handle. However, buyers came in during the last hour and pushed the index to a new all-time high (4294.25) and all-time closing high, adding 6.50 points to close at 4288.50.
Movers
Best, Bath and Beyond (NASDAQ: BBY) had a good day following a mixed Q1 report (miss for EPS and beat for sales), However, raised Q2 and FY 2021 is what investors focused on. For the session, it added $3.38 to close at $33.39. It did spike to an intraday high of $39.30 but profit takers came en masse.
Tattooed Chef Inc. (NASDAQ: TTCF) showed some early prime for a big move to upside, but gave back a good portion of its early gains.
More on Tattooed Chef: https://tinyurl.com/3ucaf4ef 
Thursday: Say "Hello" to 4300
The S&P 500 index went red only briefly during premarket when it dipped below the close (4288.50), reaching 4286 around 7 AM EST. In addition, more buyers came in off the opening of the regular session.
The index drifted higher and paused around 4300 for a few hours before surpassing that level for good just after 1 PM EST. One final push in the closing minute to 4312 and ended the session just off that high adding 21.50 points to close at 4310.
Movers: 
Krispy Kreme (NASDAQ: DNUT) made its second IPO debut after being taken private in 2016. The issue opened below its original pricing ($17) at $16.30, which turned out to be the exact low for the session, It rallied for the remainder of day, closing at the high for the session at $21,
A Q3 beat on both ends and raised guidance was not good enough for the chip maker.
More on Micron Technology: https://tinyurl.com/xnzxvu3k 
Friday: Ending The Week On A High Note
Investors were anticipating a good jobs number as the S&P 500 index spent very little under Thursday's all-time closing high and edged higher during premarket trading. Once the actual data was released there was a slight dip and then the continued higher into unknown territory
It improved on the former all-time high by over 30 handles, reaching 4347 and ended the session higher by 32 points at 4342.75. That marked the seven consecutive sessions in which the index made a new all-time high and all-time closing here were made.
Movers:
Two days after its IPO, Chinese regulators cracked down on Didi Global Inc, (NYSE: DIDI) a ride sharing and/ delivery platform and ordered the company to stop accepting new customers on their site.
After ending its first day of trading at $14.14, the issue added $2.34 on Thursday to close at $16.40. However, it relinquished some of those gains on Friday, falling $0.87 to $15.53.
Virgin Galactic (NYSE: SPCE) ended a volatile week in the red by $10.97 at $44.94 after trading in the mid to upper $50 on three different days this week.
Move on Virgin Galatic: https://tinyurl.com/frhchmxj 
The Week Ahead
It is difficult to find resistance in the S&P 500 index when there is nothing but blue skies ahead.
Investors attempting to "pick a top " should at least look for some form of a topping pattern, such as a double top. For starters, 4347, the high for Friday is the only notable number on the upside.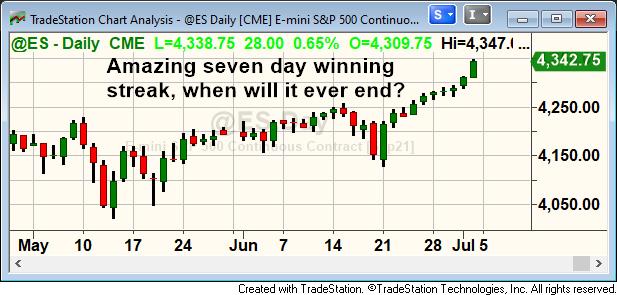 Obviously the string of seven consecutive new all-time highs and closing highs will eventually end, but it will not be on Monday as the markets are closed for observance of the 4th of July.
It should be extremely quiet on the news front with no major economic reports on the slate and the start of Q3 not until the following week. The first major report is not until July 13, when investors will get reports from JP Morgan Chase & Co (NYSE: JPM), Goldman Sachs (NYSE: GS) and Pepsico Inc. (NYSE: PEP).
On Wednesday, the Federal Open Market Committee will release minutes from its mid-June meeting that only will reveal what has previously been stated.
There may be some surprises over next weekend as Italy hosts the G20 summit of finance ministers and central bank governors. However, it has been quite some time since a major global policy change has come as a result of the meeting.
Issue With Upcoming Catalyst: Amazon Inc.
Keep an eye on Amazon Inc. (NASDAQ: AMZN) this week for a few different reasons, First of all, with Virgin Galactic taking the lead in the race to space with its launch date of July 11, it would not be surprising if Jeff Bezos and his company, Blue Origin, attempt to move up its launch date, which is now scheduled for July 22.
More importantly, Amazon has been in trading range for 11 months ($2871-$3554) with much of the trading action between $3000 and $3300, and is now once again nearing the top of the range. This long of a consolidation could lead to an explosive breakout if and when and if it can clear that level.
Finally, a much hoped-for stock split could send the issue into orbit along with Jeff Bezos.