Or should the title be, Investors, we have a problem? On the surface, the decline in S&P 500 index futures of 57.25 handles (4566.25 to 4509) is bad, but not horrible. However, the fact that the index peaked at 4550.75 earlier in the session and cascaded over 150 handles (including the after-hours low) is horrible.
Whatever macroeconomic factors the media will attribute the decline to does not really matter. What matters is the index is exhibiting price action similar to that of March 2020 and we all know that is not a good thing.
On the monthly charts, the recent price action is merely a blip on the radar and just another "buy the dip" opportunity. On the other hand, any seasoned investor knows, the pick up in volatility leads to only one thing, more volatility. 
With Q4 earnings season weeks away and higher interest rates on the horizon, the market may be devoid of any positive catalysts in the short term. In addition, the rebalancing of portfolios is just beginning to take place. What sectors will be favored and what will be abandoned is yet to be determined. Just keep in mind that in a rapid decline, the smart money may come out of the market quickly and will take its time getting back in.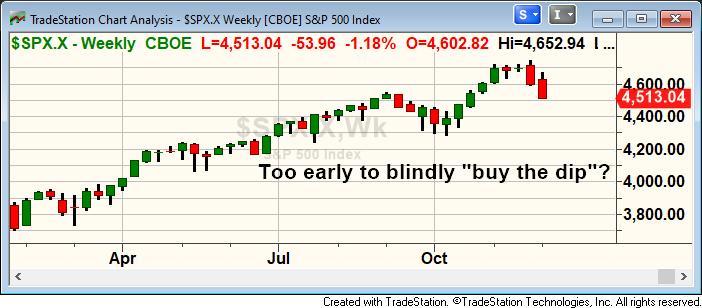 When the top component of the index with the biggest gains is the beaten-down Johnson & Johnson (NYSE: JNJ) you have an indication of where investors are trying to hide. For the session, the issue added $2.15 or 1.3% to close at $158.08.
That was much better than the cash index's decline of 1.18%.
The top component of the index with the biggest decline is Metaverse Inc. (NASDAQ: FB). The issue, which only a few days ago was at the $340 area is now bearing down on its recent low of the move. For the session, the issue declined $13.86 or 4.37% to close at $310.60.
Wednesday's With Wedbush:
Tom Nikic, Senior Equity Research Analyst covering the footwear and apparel sectors joined the broadcast.
Read more about the footwear and apparel report here.